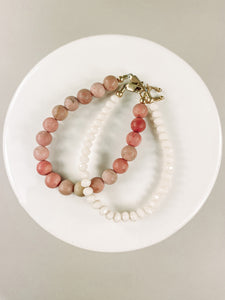 Pink Sandstone & Peaches Set
Two popular bracelets- pink sandstone and peaches and cream paired together!
Pick your bead size below.  Pictured here the pink sandstone is 6mm and the peaches is 4mm.  You can do the opposite also and choose peaches to be the larger bead size and pink sandstone smaller.  

All of our products are handmade with the highest quality materials. They are either made with gold filled or sterling silver materials so they never rust or tarnish on your little's arm! We take great care in crafting our products so they can be worn and enjoyed for years. Our own daughters wear them around the clock and they get so many compliments!